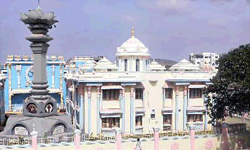 Established in 1950, Sri Sai Baba Ashram is one of the famous ashram in Andra Pradesh for meditation, tranquility and peace. Thousands of devotees all across the world come to this haven of peace.
The founder of this ashram was Sri Satya Sai Baba, who was born in the village Puttaparthi. He at the age of 14 was doing numerous miracle, earlier his family and friend believes that he has demonic possession but later  it was found that he has spirit of  a guru known as Sai Baba of a Shirdi. With the passage of time he was famous as Sathya Sai baba. On November 23, 1950 he inaugurated the ashram. At that time, it was just a new Mandir (temple) that was constructed to accommodate devotees.
Gradually Prashanti Nilayam becomes an ashram that has free school, deemed university, charitable hospitals with good facilities.
In temple you will find several impeccably maintained temples, a "Meditation Tree", Kalpavriksha" (Wish-fulfilling tree), lovely and airy high domed darshan hall, sprawling complex etc.
General Information:
Location: Prashanthi Nilayam near Anantapur district of Andra Pradesh
Accessibility: Well connected to Bangalore and Puttaparthi through railways/ airport/buses.