Dakshineshwar Kali Temple in West Bengal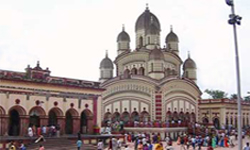 The Dakshineshwar Kali Temple was built in 1855, in an area of 25 acres, at Dakshineshwar located in the outskirts of Kolkata. The place is accessible via, local trains, buses as well as the nearest Dum Dum Metro station. Mostly people frequent the temple on auspicious days of Tuesdays and Saturdays between 11.30 AM in the morning and evenings.
The temple is dedicated to goddess Kali, and this has close associations with Ramakrishna Paramahansa who attained nirvana at this holy temple only. The temple is situated on the sacred banks of the Ganges, which is considered holy. There is a story related with the temple, legend has it that Rani Rashmoni built this temple, who was blessed with a divine dream about building a Kali temple. This led her to this place where she built it and the first priest of the temple was Ramakrishna`s elder brother Ramkumar. All through Sri Ramakrishna gave him company, from his childhood, and finally took the charges of the temple.Dakshineshwar Kali Temple From then his life took a new turn and Ramakrishna was taken over with frenzy as he kept on worshipping Kali. He became a devout worshipper and is very famous for his devotion in every Hindu Bengali household even now. He assumed a godly status, and is worshipped among the Hindus. The temple is saturated with energy and the aura of spirituality can be felt in the air. The temple, besides the main Kali temple, consists of 12 Shiva temples right opposite to the main temple, have a Shiva Lingam. There is also, a gorgeous Laxmi Narayan temple that is a center of attraction. Huge number of devotees crowds these temples, which are worshipped standing in a queue.
There is still the room where Sri Ramakrishna Paramahansa used to live, and everything including the bed on which he used to take rest still exists. The place is serene and replete with all religious fervor. People till now are astounded how the temple of all the places became the source of inspiration for Sri Ramkrishna and how this place gained the virtue and glory, apart from the fact of being built by a fisherman`s daughter. This is a proof of the secular notions that had flourished during that time under Sri Ramkrishna, which was later adopted by Vivekananda. Religion and philosophy is so well combined that it has lifted it high in the whole world.
Special occasions pull lakhs of people to this auspicious place, like the ones of monthly `amabasya`, which is considered sacred for Kali Puja, and also annual occasions like Kali Puja, which is held in a great scale all over Bengal and parts of India. The Dakhsineshwar temples are a great place for religious worship and considered a heritage still emitting the feeling of a mystical past which is awe inspiring. Due to security reasons, no video or photography is allowed here but the serene banks of the Ganges can provide for an ultimate experience, which can be treasured in the hearts to be recollected in tranquility.