Kalighat Kali Temple in West Bengal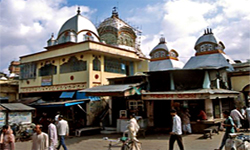 A renowned place of pilgrimage for thousand devotees, Kalighat Kali temple in Kolkata is one of the 51 Shakti Peethas in India. Once upon a time river Hooghly meandered by the holy shrine. However, with time, it is believed that the river drifted away from the Kalighat Kali temple. In the recent times the temple is situated at the banks of Adi Ganga. As per legend, a devotee came across an illuminant light ray emitting from the river bed of Bhagirathi. On examining closer he found out a human toe in the river bed. It was the body part of Sati. He also discovered a Svayambhu Lingam of Nakuleshwar Bhairav. In those times the area was surrounded by forests. The devotee, however, worshipped the Shiva linga amidst the woods. Later a temple was built on the same spot.
The Kali Temple at Kalighat in Kolkata is about 200 years old, while there is mention of this temple in Mansar Bhasan penned in the 15th century, and also in Kavi Kankan Chandi dated 17th century. Two types of coins of the period of Chandragupta II, who integrated Vanga in the empire of the Guptas, are known from Bengal. The archer type coins of Chandragupta II, which got popular during the reign of the Guptas are Kumaragupta I, were discovered at Kalighat. This indicates the historical importance of the place. The original Kali temple at Kalighat was a very small hut. In the 16th century, King Manasingha constructed a small temple for the Goddess Maa Kali in Kalighat. The present form of the temple was constructed with the support of the Sabarna Roy Chowdhury family of Banisha. Its construction work was over in the year 1809. The temple property was claimed to be owned by the Haldar family which was challenged by the Chowdhurys of Banisha. A committee was made to monitor the administration of the temple in the nineteen sixties which represents people from the Government and the Haldar family. It is the duty of the Haldar family to look after the worship of the Goddess.
The idol of Goddess Kali in the temple is quite different from the other idols in the state. The present idol of the Goddess Kali which is there in the temple has been given shape by two people: Atmaram Giri and Brahmananda Giri. At Kalighat temple, the goddess is portrayed with three huge eyes, a protruding tongue and four hands. Two of these hands hold severed human heads and a sword. The other two hands of the Goddess are in the varada and abhaya mudras. This signifies that the Goddess will bless those who pray to her with honesty and dedication and she will guide them in the right path forever. As per popular belief these severed heads represent the human ego which needs to be slain in order to achieve divine knowledge and finally, Moksha. The sword in the hand of the Goddess implies divine knowledge.